New Relic
Was ist New Relic?
New Relic ist eine Softwareanalyse- und Application-Performance-Management-Lösung, die Nutzer*innen detaillierte Datensichtbarkeit und -analyse bietet. Durch die direkte Nutzung des Codes ermöglicht
Mehr erfahren
New Relic es Nutzer*innen, schnellere Software zu entwickeln, verbesserte Produkte zu erstellen und Kund*innen konsistent zu beeindrucken. Daten erzählen eine Geschichte und New Relic interpretiert diese.
Weniger anzeigen
Wer verwendet New Relic?
Nicht vom Anbieter bereitgestellt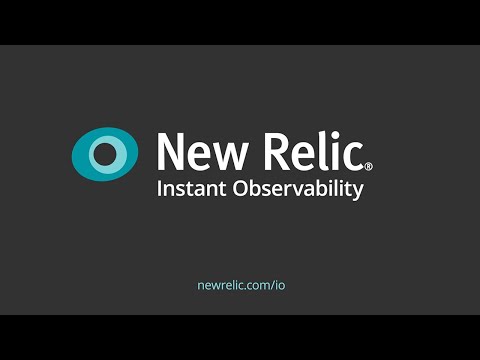 Nicht sicher, ob New Relic das Richtige ist? Vergleiche es mit einer beliebten Alternative
Nicht in deinem Land verfügbar
Kostenlose Version
Kostenlose Testversion
Preis-Leistungs-Verhältnis
Kostenlose Version
Kostenlose Testversion
Weshalb wird mir das angezeigt?
Alternativen für New Relic
Bewertungen über New Relic
Jonathan
Designer in USA
Verifizierter Nutzer auf LinkedIn
Design, Selbstständig
Verwendete die Software für: 1-5 Monate
In Betracht gezogene Alternativen:
New Relic Offers Simple-to-Set-Up Server Monitoring
Kommentare: New Relic is a great product/service that is extremely powerful and easy to use. They even have iOS/Android apps to stay up-to-date on server stats while away from your desk.
Vorteile:
I love how easy it was to get the New Relic agent installed on my Digital Ocean server. Within minutes it was piping in data to their dashboard.
Nachteile:
Making sense of the mountain of data is challenging. It takes time and effort to figure out what all the data means and how it can be useful to your organization. It is well worth the effort though.
Leon
Managing Director in Niederlande
Computer-Software, 2-10 Mitarbeiter
Verwendete die Software für: Mehr als 2 Jahre
In Betracht gezogene Alternativen:
Great tool for tracking the performance and health of our platform
Kommentare: I am using the web interface and the app multiple times a day to quickly see how the application is performing. The notifications in case of disruptions are convenient and very helpful.
Vorteile:
It's clean and simple to setup and gives a great dashboard which helps get a quick overview of the performance of our SaaS application.
Nachteile:
When using multiple modules on a bigger infrastructure it can get quite expensive. However we only use the basic version which gives us all the info we need.
Manjeet
Developer in Deutschland
Informationstechnologie & -dienste, 10'000+ Mitarbeiter
Verwendete die Software für: Mehr als 1 Jahr
In Betracht gezogene Alternativen:
Good product but has potential to be the best in market
Vorteile:
It is pretty easy to integrate with the cloud regardless of provider
Nachteile:
Native app analytics could be mich better
Dylan
Founder, Engineer in USA
Verifizierter Nutzer auf LinkedIn
Internet, 10'000+ Mitarbeiter
Verwendete die Software für: Mehr als 2 Jahre
Worse each year
Kommentare: I've used New Relic for 6+ years across 3 different companies including my own. Overall they seem to be going downhill each year, sadly along with many tech companies now. Seem to be entrenched in their industry, trying to hound customers for more money each year, but simultaneously providing less value and no innovation. Meanwhile, many other companies provide many of their features with higher quality and for free. I've recently switched some things to AWS and other services because they are cheaper and more reliable.
Vorteile:
Has monitoring specific to the programming languages and database servers that we use
Nachteile:
Cost is extremely high compared to the value of the service being provided. Many of the features can be found on other platforms for free or cheap. The designers and developers are clearly bad or mediocre. Entire platform is wrought with bugs and decisions about UI and configuration that make no sense and do not actually help the users of the product. They have done multiple revamps of the UI, which I am actually totally fine with in general because I am happy to learn new things, but they simply have not been improvements. Just a reshuffling, often with added work required from me for no benefit, plus features that no longer work. Even lowest tier email support apparently requires paying more than $2000 per year. I was legitimately astounded when I discovered this. I already pay through the nose for this software, and when I tried to file a support request they informed me I had to post in the community. Really??? $2000 per year isn't enough to respond to one measly email support request? I give email support for free for all of my customers, even ones who don't pay, because I legitimately want to make my products as good as possible.
Michael
Full Stack Developer in USA
Verifizierter Nutzer auf LinkedIn
Informationstechnologie & -dienste, 2-10 Mitarbeiter
Verwendete die Software für: Mehr als 2 Jahre
One Stop Server/App/Website/etc Monitoring
Vorteile:
I love this product! I have always had the free tier and it has so much many features. I don't know how they do so much for the free tier. I use the realtime app monitoring (APM) the most, to see current traffic as well as checking for slow apis and why they are slow. The second most used tool is to monitor my actual server (Host). Then of course I can't forget the essential and anxiety removing notification system that will tell me as soon as whatever I don't want to happen and set up an alert for, happens. This has saved me and my customers a few times already. Thank you for a great product! :)
Nachteile:
I would love to upgrade to the paid version, but, so far, it is too expensive. I wish there were a starter tier, or even a supporter/love your product tier.