My Music Staff
Was ist My Music Staff?
My Music Staff ist die führende Software für die Musikschulverwaltung und automatisiert die Art und Weise, wie du deine Musikschule führst. Stunden planen, Rechnungen erstellen, Zahlungen erfassen und vieles mehr! Das ist die Lösung, die du brauchst, wenn du alles an einem Ort erfassen und Zeit und Geld sparen möchtest. My Music Staff wurde speziell für Musiklehrer entwickelt. Erfahre, warum sich immer mehr Musiklehrer für My Music Staff entscheiden. Starte noch heute die KOSTENFREIE 30-tägige Testversion. Kostenloser und unbegrenzter Telefon- und E-Mail-Support.
Wer verwendet My Music Staff?
Musiklehrer und Musikschulen mit mehreren Lehrern, die eine erschwingliche, einfach zu bedienende Software benötigen, um die Kernaspekte des Lehrbetriebs zu verwalten.
My Music Staff – Details
Port 443
2004 gegründet
My Music Staff Kosten
Startpreis:
$ 12.95/Monat
Ja, kostenloser Test verfügbar
Keine Gratisversion
My Music Staff bietet keine Gratisversion, aber eine kostenlose Testversion. Die kostenpflichtige Version von My Music Staff ist ab $ 12.95/Monat verfügbar.
Preismodelle
Kostenlose Testversion
My Music Staff – Details
Port 443
2004 gegründet
My Music Staff – Videos und Bilder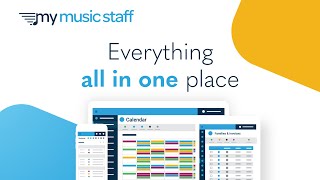 My Music Staff – Bereitstellung und Support
Kundenbetreuung
E-Mail/Helpdesk
FAQ/Forum
Wissensdatenbank
Telefon-Support
Chat
Training
Live Online
Dokumentation
Videos
Funktionen von My Music Staff
API
Aktivitäts-Dashboard
Aktivitäts-Verfolgung
Anpassbare Berichte
Asynchrones Lernen
Aufgabenmanagement
Autorensysteme
Benutzer-Management
Berichterstattung und Statistik
Beurteilung der Kompetenzen
Beurteilung-Management
Compliance Management
Compliance-Verfolgung
Content-Management
Drittanbieter-Integration
E-Commerce-Management
E-Learning-Unternehmen
Einmalige Anmeldung
Fortschrittsbericht
Fortschrittsverfolgung
Fähigkeiten-Nachverfolgung
Gamification
Gemischtes Lernen
Hochschulbildung/Erziehung
Inhalt-Bibliothek
Integrierter Autorensystem-Kurs
Klassenbücher
Kundenspezifisches Branding
Kurs-Tracking
Kursverwaltung
Leistungskennzahlen
Lernmanagement
Lernpfade/-verläufe
Mehrsprachig
Mitarbeiterportal
Mobiles Lernen
Portal für Lernende
SCORM-Compliance
Selbst-Lernen
Self-Service Portal
Soziales Lernen
Synchrones Lernen
Talent-Management
Tests/Bewertungen
Trainingsmanagement
Umfragen & Feedback
Unternehmen/Geschäft
Videokonferenzen
Zertifizierung und Lizenzierung
Zertifizierungs-Tracking
ACH Zahlungsabwicklung
API
Abrechnung & Rechnungsstellung
Aktivitäts-Dashboard
Anmeldung / Onboarding
Anpassbare Berichte
Anpassbare Formulare
Anwesenheitsmanagement
Automatisierte Terminplanung
Berichterstattung und Statistik
Daten-Import / -Export
Drittanbieter-Integration
E-Mail Erinnerungen
E-Mail-Management
E-Mail-Vorlagen
Echtzeit-Berichterstattung
Elektronische Zahlungen
Eltern-/Schüler-Portal
Erinnerungen
Eventplanung
Fortschrittsverfolgung
Für Musikschulen
Inventarverwaltung
Kalender-Synchronisierung
Kalenderverwaltung
Klassen-Management
Klassenterminplanung
Kommunikationsmanagement
Kreditkartenbearbeitung
Kundenkonten
Kundenmanagement
Kundenportal
Lohn- und Gehaltslisten-Management
Mehrere Standorte
Mitarbeitermanagement
Online-Anmeldung
Online-Zahlungen
Personalverwaltung
Praxis-Protokoll
Rechnungsmanagement
Registrierungs-Management
Repertoire-Management
SMS-Nachrichtenversand
Self-Service Portal
Studenten-Management
Studentenportal
Terminplanung
Transaktionshistorie
Veranstaltungskalender
Veranstaltungsmanagement
Verfolgen der Teilnahme
Webseitenintegration
Wiederkehrende- / Abonnement-Abrechnung
Zimmerbuchung
Matthew B.
Owner / Music Director in USA
Verifizierter Nutzer auf LinkedIn
Musik, 2-10 Mitarbeiter
Verwendete die Software für: Mehr als 2 Jahre
Couldn't run my music school without it
Vorteile:
It is extremely simple and easy to use. I only use the Students, Family and Calendar portions of it, and it serves well beyond what I need it for. So easy to view schedule and filter and organize it based on location, teacher, student, etc. i LOVE , as do the parents, the 24-hour in advance automatic reminders auto-texted or e-mailed (your choice).
Nachteile:
Besides a couple of very minor workflow impedances, it would be nice to integrate the calendar with an existing website, rather than only having the option to do so with the current website.
In Betracht gezogene Alternativen: Jackrabbit Music
Warum My Music Staff gewählt wurde: Google Sheets became too cumbersome as our school grow, and I wanted something that the families/students could also access directly
Zuvor genutzte Software: Google Sheets
Gründe für den Wechsel zu My Music Staff: Jackrabbit just didn't seem to fit as well as MyMusicStaff
Larisse K.
Music Teacher in Australien
Musik, Selbstständig
Verwendete die Software für: Mehr als 2 Jahre
Better than all the rest
Kommentare: I don't know how I have survived without it! It is also constantly listening to user feedback to improve on their software.
Vorteile:
This has literally everything you need and it is customised for music teachers. Very easy to set up and a great website for free to create and use. I have tried virtually every comparable software out there in this similar price bracket and this is hands down the best. Features too many things to list: Scheduling, payments, expenses, website, student/teacher/parent portal, practice log, lesson notes, blog, bulk emailing, integration with zoom and more
Nachteile:
not really any cons, It would be good to have a function to leave messages for students or students message the teacher and an alert is given that there is a message waiting.
In Betracht gezogene Alternativen: Music Teacher's Helper
Gründe für den Wechsel zu My Music Staff: Music Teacher's Helper is a very similar product but the pricing is slightly more expensive. I couldn't see any features that my music staff didn't already have so I went with my music staff.
Musik, 2-10 Mitarbeiter
Verwendete die Software für: 6-12 Monate
My Music Staff review first year
Kommentare: I definitely have been having a great experience with My Music Staff. Especially their actual staff members. I spoke with [SENSITIVE CONTENT] recently and she did a phenomenal job at helping me fix my accounting issues and invoicing issues. She was very easy to talk to you she listened to my concerns and questions that I had and took time to teach me how to fix my accounting problems. I had several students accounts that had it inputs put in the wrong way for discounts etc. and she was able to quickly spot what the problems were as well as allow me the time to fix them and explain why not to do what I did before and how to properly and put the information I need to moving forward and why. I told her I think it would be nice if My Music Staff will give her a bonus to make videos on how to create invoices and teaching users how to utilize accounting and how all of the features work together to help balance out the accounting page and create invoices all of the ends and outs! She would be great at that as well!
Vorteile:
It's really kind of hard to pinpoint what specifically I like because there's a lot of features that I do like such as being able to schedule, pull reports, upload videos for our students, upload link sent of the learning material for our students, payroll etc
Nachteile:
I don't like that I'm not able to use PayPal and stripe at the same time to except payments. I do have parents who like to pay through PayPal as well but I have to utilize a different source to receive those payments because only stripe or PayPal can be used one at a time. I wish that it was also a lot easier to understand how to utilize the invoice an account features. I have gotten pretty confused and had to call in and ask questions several times in order to really get the hang of it. It can be a bit confusing without that additional coaching to understand how to bill clients. I've had moments where my numbers were off because I gave an additional discount or I build them incorrectly and didn't understand how I did it or why.
Antwort von Port 443
vor 2 Monaten
Hi Irma, thanks for a great review! We actually do have a number of tutorial videos already, including ones that go over various parts of invoicing. We also have a Getting Started Guide on our website that goes over how all of the features work together :)
Laurice V.
Managing Director in Irland
Musik, 2-10 Mitarbeiter
Verwendete die Software für: 6-12 Monate
Review
Kommentare: Overall it has been good. Customer Service is quite quick once you get matched with a member. The Support centre and Pinterest links and How-To's are done very well. Not the mention the lovely additional bits like Social Media Calendar and worksheets for the kids is so lovely! And helpful!
I really like using it every day personally and so do my Staff. But my students, not so much. It's only easy to use when you are using it for a couple hours a day like me, otherwise its a total mind field
Vorteile:
I like the amount of customisation. The calendar Sync. The website functionality and the Families & Invoicing section.
Nachteile:
It is not user friendly for the public. It is far too complicated for my business. For example if someone wants to sign up for a course they have to go through Student Portals. Log In. Emails. Setting it up. Saving it to the Homepage. Then they cant pay immediately they have to wait for an invoice and then log in again and finally enter their bank details. I am im discussions of discontinuing with this software. While it has great benefits for Admin it really is too complicated for the public and inviting new customers in. Therefore it is not for us in the long term.
Nicole Q.
CEO and Teacher in Australien
Musik, Selbstständig
Verwendete die Software für: 6-12 Monate
Communication and Organisation
Kommentare: This software definitely has 'bang for buck'. All of the things teachers are able to do through this platform certainly impress me. I started teaching 40 years ago and everything was done in hardcopy by hand. Wow, what a difference. What has impressed me the most, and continues to impress me, is your customer support. My questions are answered quickly and always with courtesy too. I feel like I am dealing with real people who care about my ability to use their product with as much ease as possible. It is an absolute pleasure doing business with you.
Vorteile:
There are quite a few things I like about MMS. The first is communication with my students. Being able to create lesson notes each week, schedule lessons on the calendar and do invoicing through the platform helps me to keep things organised. I also I like that it allows me to invoice my students and keep track of their payments easily. The library is very helpful. Now I don't lose things I loan out anymore and students (I believe) are notified when they have something that need to be returned.
Nachteile:
I am not very happy with my website and wish there was more support on how to do this well. Being a sole proprietor I cannot afford to hire someone to do this and it isn't very intuitive (although better than many others I looked at, especially when you consider what you get with the package). More videos that give direction, suggest and examples of this would be helpful. Maybe reach out to some of the teacher who have created exception sites and ask them to share their secrets. We're teachers, we can't help ourselves. : ) It is a little thing, however; buttons for social media (like Facebook, Instagram Linkedin, etc) would be really nice on the site as well.