Was ist Connecteam?
Connecteam bietet Unternehmen die einfachste, schnellste und umfassendste Art und Weise, erfolgreich Deskless-Mitarbeiter zu verwalten. Wir wissen, wie schwierig es ist, ein Deskless-Team zu verwalten, und deshalb lassen wir dich deine individuelle Mobile-App innerhalb weniger Minuten selbst erstellen. Vollgestopft mit allen Assets, die du willst und brauchst, um deine Geschäftsabläufe zu automatisieren.
Wer verwendet Connecteam?
Wir bedienen alle Branchen der Industrie, die Teams von Deskless-Mitarbeitern beschäftigten
Wo kann Connecteam bereitgestellt werden?
Cloud, SaaS, webbasiert, Mac (Desktop), Windows (Desktop), Android (mobil), iPhone (mobil), iPad (mobil)
Über den Anbieter
Connecteam
Ansässig in New York, USA
2015 gegründet
Telefon-Support
Chat
Erhältlich in diesen Ländern
Australien, Grossbritannien, Kanada, Vereinigte Staaten
Connecteam Kosten
Startpreis:
$ 39.00/Monat
Ja, kostenloser Test verfügbar
Ja, Gratisversion verfügbar
Connecteam bietet eine Gratisversion und eine kostenlose Testversion. Die kostenpflichtige Version von Connecteam ist ab $ 39.00/Monat verfügbar.
Über den Anbieter
Connecteam
Ansässig in New York, USA
2015 gegründet
Telefon-Support
Chat
Erhältlich in diesen Ländern
Australien, Grossbritannien, Kanada, Vereinigte Staaten
Connecteam – Videos und Bilder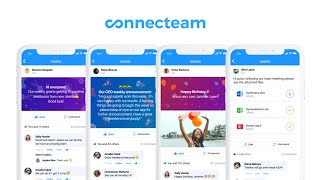 Kosten ähnlicher Produkte wie Connecteam vergleichen
Connecteam Funktionen
360-Grad-Feedback
Aktionsmanagement
Aktivitäts-/Newsfeeds
Aktivitäts-Dashboard
Aktivitäts-Verfolgung
Alarmfunktion / Benachrichtigungen
Anbieter-Management
Angestelltenhandbuch
Anpassbare Berichte
Anpassbare Fragen
Anpassbare Vorlagen
Arbeitsauftragsverwaltung
Archivierung & Aufbewahrung
Aufgaben-Fortschrittsverfolgung
Aufgaben-Tagging
Aufgabenbearbeitung / -aktualisierung
Aufgabenmanagement
Aufgabenplanung
Auftragnehmer-Management
Ausfallzeit-Management
Automatische Zeiterfassung
Automatisierte Terminplanung
Automatisierung von Geschäftsprozessen
Autorensysteme
Benchmarking
Benutzer-Management
Berichterstattung / Analyse
Berichterstattung und Statistik
Bewerber-Management
Brainstorming
Chat / Messaging
Compliance Management
Compliance-Verfolgung
Content-Management
Dateispeicherung
Daten-Import / -Export
Diskussionen / Foren
Document Capture
Dokumentenmanagement
Dokumentenspeicher
Drag-and-Drop
Drittanbieter-Integration
Echtzeit-Aktualisierungen
Echtzeit-Benachrichtigungen
Echtzeit-Chat
Echtzeit-Planung
Echtzeitüberwachung
Einheitliches Verzeichnis
Einstellungen (Personalbeschaffung)
Elektronische Formulare
Elektronische Unterschrift
Erinnerungen
Erstellen von Unteraufgaben
Erstellung von Einarbeitungsplänen
Eventplanung
Facility Asset Management
Fahrer-Management
Fahrzeug-Nachverfolgung
Feedback-Management
Filesharing
Formularerstellung und -design
Formularverwaltung
Fortschrittsbericht
Fortschrittsverfolgung
Fortschrittsverfolgung in Prozent
Fotos hinzufügen und bearbeiten
Fragenkatalog
Freizeit-Anfragen
Fähigkeiten-Nachverfolgung
Für HLK-Unternehmen
Für Personalvermittlungen
Für die Gartenpflege
Für die Klempnerei
GPS
Genehmigung von Profiländerungen
Geofencing
Geografische Karten
Geolokalisierung
Geräte-Management
Grafischer Workflow Bearbeiter
Gruppenmanagement
Haushaltungsmanagement
Historische Berichte
Ideenfindung
Inhalt-Bibliothek
Instandhaltungsmanagement
Integration in die Buchhaltung
Interaktives Lernen
Inventarverwaltung
Job-Management
Kalender-Synchronisierung
Kalenderverwaltung
Kapazitätsplanung
Katalogisierung / Kategorisierung
Kommentar-Bibliothek
Kommentare / Notizen
Kommunikationsmanagement
Kontakt-Datenbank
Kontaktmanagement
Kontrolle des Genehmigungsprozesses
Kraftstoff-Nachverfolgung
Krankheitsausfall-Nachverfolgung
Kreditplanung
Kundendatenbank
Kundendienst-Historie
Kundenspezifisches Branding
Kurs-Tracking
Kurs-Veröffentlichungen
Kursverwaltung
Layout und Design
Leistungskennzahlen
Leistungsmanagement
Lernmanagement
Lieferanten-Management
Live-Chat
Lohn- und Gehaltslisten-Management
Mehrsprachig
Mitarbeiter-Datenbank
Mitarbeiteranerkennung
Mitarbeiteranerkennung verfolgen
Mitarbeitereinsatzplanung
Mitarbeiterfotos
Mitarbeitermanagement
Mitarbeiterprofile
Mitarbeiterverzeichnis
Mitgliederverzeichnis
Mitgliedschaft-Management
Mobile App
Mobile Zeiterfassung
Mobiler Zugriff
Mobiles Lernen
Multi-Channel-Kommunikation
Multi-Channel-Vertrieb
Nutzungsverfolgung/-analyse
Online-Anmeldung für Zusatzleistungen
Online-Buchung
Online-Stechkarte
Online-Zeiterfassung
Peer-to-Peer-Anerkennung
Produktivitätsanalyse
Pulsbefragungen
Remote-Zugriff/-Kontrolle
Ressourcenmanagement
Rich-Text-Bearbeiter
Rollen-basierte Genehmigung
Schichttausch
Selbst-Lernen
Self-Service Portal
Sichere Datenspeicherung
Soziales Lernen
Standortverfolgung
Statusverfolgung
Stechkarte
Stellenanzeige veröffentlichen
Steuerung der Profilsichtbarkeit
Störfallmanagement
Suchen / filtern
Techniker-Management
Terminplanung
Terminverwaltung
Textbearbeitung
Textnachrichtenversand
Timesheet Management
Touch-Screen
Trainingsmanagement
Trainingsverwaltung
Transkripte / Chatverlauf
Transportmanagement
Umfragen & Feedback
Umfragenerstellung
Urlaubsverfolgung
Urlaubsverwaltung
Veranstaltungsmanagement
Verfügbarkeit-Management
Versandmanagement
Verwaltung der häuslichen Krankenpflege
Verwaltung von Verzeichnislisten
Verwaltung von Zusatzleistungen für Angestellte
Virtuelle Tastatur
Volltextsuche
Vorlagen
Werkzeuge zur Zusammenarbeit
Wiederkehrende Aufgaben
Wiederkehrende Termine
Wissensbasis-Management
Wissensmanagement
Wohnungsinspektionen
Workflow-Konfiguration
Zeit & Anwesenheit
Zeit & Kosten Verfolgung
Zeitverfolgung
Zufälligkeitsanordnung
Zugriffskontrollen / Berechtigungen
Überstunden-Berechnung
Überwachung von Mitarbeiteraktivitäten
Alternativen für Connecteam
Bewertungen über Connecteam
Scott W.
Director of Operations in USA
Verifizierter Nutzer auf LinkedIn
Informationstechnologie & -dienste, 2-10 Mitarbeiter
Verwendete die Software für: Kostenlose Testversion
In Betracht gezogene Alternativen:
Most Valuable APP for SMB Ever
Kommentare: Our company utilizes employees here in the US, and numerous remote employees in the Philippines (less than 20 employees). We had one solution for scheduling, another program for task and project management, another app for messaging, and a cloud-based program for time-tracking. Until we found ConnectTeam. Everything we needed (plus more), all in a single solution. Not only did we cut our previous costs by 80%, everything is now in a single solution.
Vorteile:
- Only add the functions you want. Not encumbered by bloatware or features we will never us. - EXTREMELY intuitive. Once create an account, do the 5 minute walkthrough and you feel confident enough to manage yoir company. - Their FREE option is actually very useful and includes 80% of the features. - FLAT-FEE pricing! Once you decide to upgrade (we chose $29 plan) No 'per-user' cost like virtually every other solution. One flat-fee and can add up to 200 users with no hidden fees. - 24/7 live support; even for the free account! When we first got started, we had a couple hiccups, and at 1:30am, their live support spent over an hour helping us get everything working perfectly (thanks again Noam). - Supports overseas employees in other countries natively. E.g. we have employees in Philippines, and the installed the app and verified their phone numbers via text on their Philippines phone with no issue. Can text-message filipino worked through app, even on free mode. - Messaging/chat options are way better than other messaging apps. Like 'voice' chat, and the ability to integrate other formats. Supports rich text. Take FB messenger, Sling, and viber and combine all the good features, and this is what you have. - GPS tracking of all remote employees.
Nachteile:
- At the time of writing this review, all admin features have to be done through website, and not through the app (though they say they are working on that). - Could use more hierarchy fratures, other than just basic. Would be nice to see customizable permissions for Administrators (may support but I didn't see). - App only supports Android and iPhone. No desktop app for Windows or Mac available.
Antwort von ConnecTeam
vor 2 Jahren
Hi Scott! Thank you so much for taking the time to write this amazing review! Please note that there's A LOT you can do as an admin from the app, under the the ADMIN tab. Make sure to reach out to us for further assistance if needed :)
Sport, 2-10 Mitarbeiter
Verwendete die Software für: 6-12 Monate
In Betracht gezogene Alternativen:
Great software would recommend
Kommentare: I'm generally happy with it - the customer service is great.
Vorteile:
The employee scheduling is so easy to use, it's a really intuitive design and you can implement it and get employees on boarded so quick with it
Nachteile:
I dislike that I can't book 1-2-1 sessions for employees - a live timetable I can send front end to customers so they can book my employees out per session. Would be a great add. It's also not cheap price wise.
Antwort von Connecteam
vor 3 Wochen
Thank you so much for your review, Harry! It's great to know that you find Connecteam to be simple to use both for you and for your employees and that you're happy with our customer service :) Although Connecteam is an employee management tool, we already talk internally about adding capabilities for the business' customers to book their meetings directly in the schedule, so that's definitely something to look forward to in the future :) If you have any more feedback for us or would like to suggest an improvement, please reach out to us at [email protected] at any time :) Thanks again!
Michael B.
Director in UK
Verifizierter Nutzer auf LinkedIn
Hausmeisterservice, 51-200 Mitarbeiter
Verwendete die Software für: 6-12 Monate
In Betracht gezogene Alternativen:
User-friendly software with many features, but needs improvements around scheduling & time clock
Kommentare: We have been using the software for about 8 month now. Some problems have been resolved. A huge improvement was around open shifts. That feature was basically unworkable until a few months ago. However, no improvement in core functionality of job scheduling and time clock since then.
Vorteile:
We mainly use software for job scheduling and time clock. Pros: It is easy to create a job and a shift Easy to add an employee Job scheduling views are good Training module (courses) has been useful
Nachteile:
The more employees and jobs you add, the slower it gets for admin users The jobs schedule opens slow on mobile phones The app users a lot of RAM memory on desktops If you have many shifts in the schedule, the app may start freezing The company often focuses on getting some minor features rather than improving their core elements, such as Job Schedule and Time Clock Not easy to go through Time Clock entries as the hours in Job Schedule are not shown. They claim that Time Clock and Job Schedule are synced, but sync only works for mobile users to clock in and out. There is no sync for admin users, who are checking the entries! Chat feature is undeveloped. It is easy to send information to staff, but it is not possible for field staff to have 1 clear communication channel. The job schedule shows names of the person, who created a job, so field staff have multiple conversation about various jobs, rather than have 1 point of contact. If the person who created the job is away, there is no way to see the message. So software creates a communication nightmare for admin and for field staff as well.
Antwort von Connecteam
letzten Monat
Thanks for the feedback, Michael. First, it sounds like you're experiencing some technical issues. Things should not load slow or freeze. The best we can suggest is to contact us so we can investigate your issues and have them resolved. As for the schedule and time clock sync, there might be a misunderstanding or unfulfilled expectations here, and we'd like to clarify: the sync doesn't mean that any scheduled shift will automatically create a time entry in a schedule. The schedule lets users know what they need to do, when and from where, but they must clock in and out for those entries to show in their timesheets. As for the chat - what's missing for you that you feel it's undeveloped? As for employees seeing who created a shift - that's 100% to your control as an admin. Simply remove this option from the scheduling settings menu. Would like to connect with us so we can see what can be done to assist you? Please email me personally at [email protected] :) Thanks!
Karen T.
Administrative VP in USA
Bau, 11-50 Mitarbeiter
Verwendete die Software für: 1-5 Monate
Explore the features they are gems
Kommentare: I am getting the forms and documents I need from the field. They were using paper forms before this and would lose them, forget them...bottom line we would never get them in the office. Getting the documentation keeps us OSHA compliant and helps us with unemployment claims if we had a legit reason to terminate someone. Also, I cannot stress enough, their support is fabulous. I scheduled a training online and the rep that helped me, [SENSITIVE CONTENT], was phenomenal! She continues to reach out and offer to help. She showed me all of the extra features that I really did not anticipate using and I am so glad she did.
Vorteile:
I love the ease of implementation. The software automatically sent invites to the users to download the app. The form creator gives so many options to use forms already created or to create one of your own. The forms are simple and can be signed from a mobile phone. Signatures are critical for documentation of training, write ups, injury reports etc.
Nachteile:
Unless a user purchases the expert version there are limits to the number of jobsites you can use GPS tracking on. With the level that we have we are limited to 10 jobs. I would be much happier with the ability to have 15 to 20 without having to upgrade. We are working with the limits of 10 for now because there really is a large jump in price.
Antwort von Connecteam
vor 3 Monaten
Amazing review, Karen! Thank you so much! It's great to hear Connecteam helps you better manage your business and team, save time, and automate day-to-day workflows. As for the capabilities you're looking to have in your plan without upgrading again, the best would be to communicate that to your Customer Success Manager at Connecteam and ask if there's something that can be done to help :) Thanks again for your positive detailed review!!
Maddy J.
Accounting Specialist in USA
Einzelhandel, 51-200 Mitarbeiter
Verwendete die Software für: 6-12 Monate
Highly Recommend, this program can grow with you and for you.
Kommentare: Overall the Connecteam team was very helpful. We took a lot of time before deciding to invest our time into this software to take it company wide. We had several zoom calls and emails back and forth asking questions about the features we required. Most of these features were included, in the process, or on the list to be added which we really liked.
Vorteile:
Once you get the hang of navigating the software, learning what does what and what affects what, it makes scheduling and timeclock tracking efficient. It does take some time getting used to (as does learning any new system) but overall, we are happy with how it has made payroll and scheduling more uniform for our company.
Nachteile:
The most common issue we run into is the Kiosk app. Some users refuse to use the app on their phone (perfectly fine with us, we give all employees the option). When they use the kiosk, we have glitches every now and then that are very difficult to duplicate to therefore get assistance. We are certain some errors are a mix of the tablet fault and Kiosk faults. The Kiosk is used everyday at several locations.
Antwort von Connecteam
letzten Monat
Thank you so much for recommending Connecteam, Maddy! It's great to hear you are able to grow and scale with Connecteam and find it useful and easy to use. As for technical issues with the Kiosk app, our team always tries to help and resolve issues when needed, but as you mentioned, if they are hard to replicate and don't always happen, it is more difficult to understand what to fix :) That said, stability improvements that are being released regularly may be helpful! Either way, we're always here to help with anything, so please don't hesitate to reach out! Thanks again for your review :)