Zendesk Suite
Was ist Zendesk Suite?
Zendesk ist die wichtigste Logik für die Unterstützung der Cloud, um die Unterstützung der Agenten zu gewährleisten. Toutes vos Interactions avec les clients se trouvent dans une interface einzigartig
Mehr erfahren
avec des fonctionnalités telles que des widgets Web, des réponses de ticket prédéfinies et un historique complete des clients. Soyez opérationnel rapidement et obtenez des résultats encore plus rapidement - en moyenne, nos Kunden voient le retour sur investissement après 3 mois avec Zendesk.
Weniger anzeigen
Wer verwendet Zendesk Suite?
Von Start-ups bis hin zu Fortune 500-Unternehmen, mehr als 80.000 Kunden vertrauen Zendesk hinsichtlich ihrer Kunden-Support-Bedürfnisse.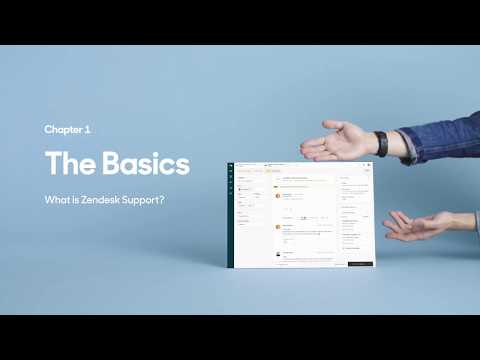 Nicht sicher, ob Zendesk Suite das Richtige ist? Vergleiche es mit einer beliebten Alternative
Kostenlose Version
Kostenlose Testversion
Preis-Leistungs-Verhältnis
Kostenlose Version
Kostenlose Testversion
Weshalb wird mir das angezeigt?
Alternativen für Zendesk Suite
Bewertungen über Zendesk Suite
Töffel
Gastronomin in Deutschland
Verifizierter Nutzer auf LinkedIn
Gastgewerbe, 51-200 Mitarbeiter
Verwendete die Software für: 1-5 Monate
Sehr zufrieden wir nutzen das schon seit ein paar Monaten
Kommentare: Wir sind vollkommen zufrieden und würden die Software weiterempfehlen
Vorteile:
Dass man viele Möglichkeiten hat sich besser zu informieren um die Software besser zu verstehen
Nachteile:
So viele Möglichkeiten können zur Orientierungslosigkeit führen
Amy
Customer Support Manager in USA
Gastgewerbe, 11-50 Mitarbeiter
Verwendete die Software für: Mehr als 2 Jahre
Great integrations and in depth information/reports as needed
Kommentare: Super product for customer support tickets. Easy to assign and "pick up" again when users message back. Customizable fields for tickets too. As well, since our package already includes access to chat, and we already used GUIDE through Zen, we are able to utilized the support chat through Guide to auto-create tickets for users, offering self help support and the cost is included in our package - no extra charge (not live chat, just the self help chat feature). Live chat is also available, but we don't use that currently. If you are opting to use the chat feature that suggests answers and self help details, there are limitations to the number of those you can have per month without upgrading the package. But if you use the basic help ticket creation, that is unlimited. We were previously using another product for this purpose that had ridiculous cost associated with a painful user experience and poor self help features. Zen has it all, we were already familiar with the product and it just works.
Vorteile:
Easy to integrate with Jira for ticket/IT issuesEasy to open/close/follow up on ticketsEasy to assign tickets to agentsEasy to integrate with Metabase for subscription management Macros are easy to create and implement/use for ticketsNot so easy, but super helpful once you learn - Zen Support "chat" will help you create tickets if you already integrate Guide on your website.
Nachteile:
If you don't use the deep dive reports tabs a lot, they can be complicated to use. But that's basically being "unfamiliar" with the product. Once you finally find and use them, I'm sure they become more familiar.
Benjamin
VP Operations and Technology in Kanada
Computer-Software, 11-50 Mitarbeiter
Verwendete die Software für: Mehr als 2 Jahre
In Betracht gezogene Alternativen:
Solid System to Capture Customer Emails and Calls
Kommentare: Zendesk has been helpful for us to help collect our emails, form captures and calls. Sort them within a ticketing system, and prioritize the tickets as needed. And send them to the person who will reply. Not having someone who has to answer the phone, and then pass that message to the appropriate person is a big help for us.
Vorteile:
We have connected Zendesk to our contact form on our website, and our phone system. Whenever someone fills out any of our forms, this heads to Zendesk. Whenever someone calls our phone number, Zendesk records the call and also attempts to make a text version of the call (not always the greatest, but not too bad). We no longer have to have someone answer the phone with this service, which has saved us a lot of hassle.
Nachteile:
It often feels like Zendesk wants the information to stay within Zendesk. As a small company we may get support emails, sales emails, people applying for jobs, etc. all of which need to get to different people, and it could be easier to get the email directly to that person. The speech-to-text for the calls could be a bit better too (though we appreciate the feature!).
Narendra Kumar
Assistant Manager - SEO in Indien
Informationstechnologie & -dienste, 51-200 Mitarbeiter
Verwendete die Software für: Mehr als 2 Jahre
In Betracht gezogene Alternativen:
Best Email Support Platform, If you are dealing with more Customers.
Kommentare: Having a track of support tickets we are getting and how many of them are solved, how much average time they are taken to get solved, and who had solved them. etc. these metrics are something that we can't get access in traditional email platforms. Zendesk is the platform that helped us in setting up all these things with ease and solved the biggest headache of ours.
Vorteile:
The way it delivers the emails to the right customer support agent based on the query. We used to deal with a lot of customers and it is not possible for us to go with the G-mail to solve the customer queries and especially when there are a lot of queries with different categories. we have chosen Zendesk to segregate emails automatically and based on the query and also to which certain emails should fall. We have used the autoreply function for some of the emails where there is a standard reply. It is a pretty good dashboard to track the support tickets as well as team performance.
Nachteile:
Not sure, as I didn't find any flaws in my usage time.
Alaa
Technical Outsourcing Specialist in Jordanien
Informationstechnologie & -dienste, 11-50 Mitarbeiter
Verwendete die Software für: Mehr als 2 Jahre
Best applications for managing the process of responding to customer requests and inquiries.
Kommentare: Zendesk provided us with great flexibility to deal with customer requests and inquiries, and enabled us to increase the speed of response as well as enable us to document all procedures automatically, and the reports it provides to us are comprehensive and we can always take advantage of them to develop our operations.
Vorteile:
Zendesk is a great and organized space, with its features, the staff can organize everything related to customer tickets and inquiries, as well as live chat with them, self-service features, and also accurate documentation of all actions. I love how Zendesk's high-quality automation enables us to automatically track incoming tickets from customers and how we can customize an autoresponder to respond to them and also quickly distribute them to the responsible team member. I also like how all those times, the procedures that took place and the extent of customer satisfaction with the speed of response are documented within records, through which we can measure the ability of team members to respond quickly as well as the extent of customer satisfaction with that. I also like how easy it is to customize Zendesk in different languages ​​so that we can give the customer the space to choose the language that suits them and how easy it is to use it to answer customer inquiries and requests via SMS so we can expand our operations.
Nachteile:
I haven't experienced any negative functionality with Zendesk, the user interface design is amazing, all the tools and tickets are easy to access, and the way tickets are coded is innovative and simplifies for the client as well as team members to easily follow.