Was ist Hypersay?
Good presenters have great slides
Great presenters know how to get their audience involved.
Hypersay gives you an easy way add live polls, quizzes, open questions, interactive images and videos.
Wer verwendet Hypersay?
Education, Conference speakers, Corporate training professionals
Hypersay – Details
Learn Forward
2015 gegründet
Hypersay – Details
Learn Forward
2015 gegründet
Hypersay – Videos und Bilder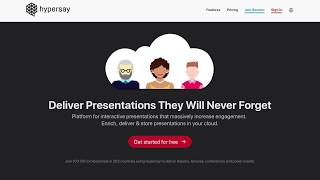 Kosten ähnlicher Produkte wie Hypersay vergleichen
Startpreis
$ 3.99/einmalig
$ 9.99/Monat
Nicht verfügbar
$ 9.99/Monat
Hypersay – Bereitstellung und Support
Training
Live Online
Webinare
Dokumentation
Funktionen von Hypersay
3D-Objekte
API
Aktivitäts-Dashboard
Animation
Anpassbare Vorlagen
Audiodatei-Management
Berichterstattung / Analyse
Berichterstattung und Statistik
Bildbearbeitung
Bildbibliothek
Bildschirm teilen
Chat / Messaging
Content-Management
Dateitransfer
Daten-Import / -Export
Datenvisualisierung
Diagramm-Erstellung
Dokumentenmanagement
Dokumentenspeicher
Drag-and-Drop
Drittanbieter-Integration
Echtzeit-Aktualisierungen
Engagement-Tracking
Inhalt-Bibliothek
Kommentare / Notizen
Kommunikationsmanagement
Konferenzschaltungen
Kundenspezifisches Branding
Medienbibliothek
Meeting-Management
Offline-Bearbeitung
Offline-Präsentation
Offline-Zugriff
Präsentations-Streaming
Social-Media-Integration
Suchen / filtern
Textbearbeitung
Trainingsmanagement
Versionskontrolle
Video-Management
Video-Streaming
Video-Unterstützung
Videobearbeitung
Videokonferenzen
Vorlagen-Management
Wechselseitige Audio & Video
Werkzeuge zur Zusammenarbeit
Whiteboard
Zugriffskontrollen / Berechtigungen
interaktive Inhalte
Durchschnittliche Bewertung
Preis-Leistungs-Verhältnis
---
Nutzerbewertungen nach Bewertung
---
Nutzerbewertungen nach Unternehmensgröße (Angestellte)
<50
51-200
201-1'000
>1'001
Karen E.
Lecturer/Assistant Professor in UK
Verifizierter Nutzer auf LinkedIn
Hochschulbildung, 51-200 Mitarbeiter
Verwendete die Software für: 6-12 Monate
Improves student 'voice'
Kommentare: The benefits realised are a way to make lectures digital, engaging and fun. Student comments were positive and allowed for open discussion and checking learning as the course progressed - brilliant.
Vorteile:
The anonymity provided by the software gives 'voice' to students who usually never interact in lecture environments. In addition, asking questions as the lecture unfolds is extremely useful.
Nachteile:
Students can change the poll after their initial choice
Rodica B.
Teacher in Rumänien
Verifizierter Nutzer auf LinkedIn
Verwendete die Software für: 1-5 Monate
Hypersay is a free platform that allows me to transform the boring lessons into some interactive wit
Kommentare: The fact that I managed to draw the attention of all my students, that they actively participated, I was able to improve my powerpoint presentation, that I could reuse the same presentation.
Vorteile:
My powerpoint presentation was able to improve it by adding open questions, polls, quizzes, videos, images, extra-content. I really like the feature that I can see in real-time students who are attentive and those who are not attentive to the lesson, and especially that I can see their answers in real time. My students were very attentive in class, took notes, asked questions, actively participated in learning activities.
Nachteile:
I didn't know that I can disable claps, but I discovered during the lesson. My students have greatly appreciated this feature and voted a lot...
Sandra B.
Lecturer in Rumänien
Verifizierter Nutzer auf LinkedIn
Hochschulbildung, 51-200 Mitarbeiter
Verwendete die Software für: 6-12 Monate
Hypersay is my no. 1 choice for interactive presentations
Kommentare: I can provide, during lectures, a richer learning content that my students can also access outside classroom and explore at their own pace.
Vorteile:
First: Hypersay enhances the dynamics of my courses with polls and open questions displaying results in real time, as well as video content and links to further reading recommendations. Second: My students follow the slides either on the classroom screen, or on their laptops and smartphones, so Hypersay is also a tool to fuel class engagement, to increase the attention span and focus. Third: Customer service is great, always prompt and very helpful.
Nachteile:
Once I upload my presentation, I can change the order of the slides, but I wish I could change also the content.
Antwort von Learn Forward
vor 3 Jahren
Thank you!
Lars mønsted N.
Sr. Project Manager/Lecturer in Dänemark
Verifizierter Nutzer auf LinkedIn
Bildungsmanagement, 1'001-5'000 Mitarbeiter
Verwendete die Software für: 1-5 Monate
I just love Hypersay and more important so do my students!
Vorteile:
I have been using Hypersay since August this year at three engineering classes at VIA University College in Denmark (approximately 80 students). The feedback has been very good. I am especially using the system to interact with students through questions and polls and they deliver answers, opinions etc. through the small groups that they are working in. This means that they get to discuss and deliver their thoughts in an efficient and for them satisfying way. At the end of the lectures I get feedback related to my teaching, the systems and the subject presented and that is without any doubt very beneficial for me as lecturer.
Nachteile:
I would like that Hypersay would support teams in classes and that it would be easier to change the powerpoint directly once uploaded.
Mary L.
instructor in USA
Bildungsmanagement, 51-200 Mitarbeiter
Verwendete die Software für: 6-12 Monate
My Students Love Hypersay!
Kommentare: I use Hypersay regularly and will continue to do so.
Vorteile:
This venue allows student participation. Everyone is involved. The material is memorable using Hypersay.
Nachteile:
I would like to develop the presentations in the software rather than uploading from Google Slides or Powerpoint.