Deskera All-In-One
Was ist Deskera All-In-One?
Deskera bietet dir alles, was du für den Betrieb deines Unternehmens brauchst und ist sofort einsatzbereit. Buchhaltung, Inventar, Auftragsabwicklung, Online-Zahlungen, Finanzberichte in Deskera
Mehr erfahren
Books. Aufbau von Deals und Pipelines, schöne Marketing-Kampagnen, Veröffentlichung der Knowledge-Base, Support-Ticketing in Deskera CRM. Führe unbegrenzte Gehaltsabrechnungen für Mitarbeitende durch, sieh dir Gehaltsabrechnungen an, lade die Formulare W-2, W-4, 1099s herunter, beantrage Urlaub, scanne Ausgaben in Deskera People. Und ein All-in-one-Dashboard.
Weniger anzeigen
Wer verwendet Deskera All-In-One?
Kleine Unternehmen oder Start-ups, die nach einem erschwinglichen Tool suchen, um Buchhaltung, Inventar, Auftragsabwicklung, CRM, Support-Ticketing, Wissensdatenbank, Gehaltsabrechnung und HR mit mehreren Integrationen zu verwalten.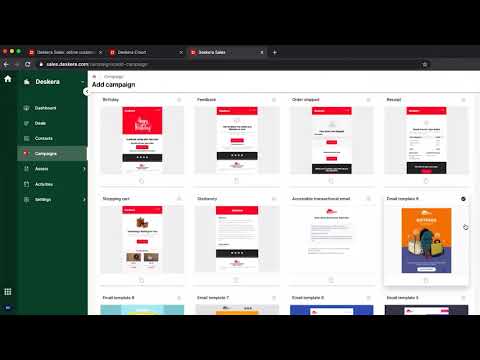 Nicht sicher, ob Deskera All-In-One das Richtige ist? Vergleiche es mit einer beliebten Alternative
Nicht in deinem Land verfügbar
Kostenlose Version
Kostenlose Testversion
Preis-Leistungs-Verhältnis
Kostenlose Version
Kostenlose Testversion
Weshalb wird mir das angezeigt?
Alternativen für Deskera All-In-One
Bewertungen über Deskera All-In-One
Alban
General Manager in Hongkong
Verifizierter Nutzer auf LinkedIn
Computer-Vernetzung, 11-50 Mitarbeiter
Verwendete die Software für: 1-5 Monate
In Betracht gezogene Alternativen:
An excellent (and more complete) alternative to Xero
Kommentare: My main issue of the past 2 years was to use an invoicing system and a separate bank reconciliation system because none other did support my bank.
Another issue I had was providing a convenient way for external consultants to fill their timesheets and expenses.
Deskera solves this and brings tons of other features on the table.
Vorteile:
I've struggled to find a full-featured SaaS that would interface with my bank. Only Xero did, all the others didn't support it. Until Deskera, that is. As Xero's bills and invoice system is rather cumbersome, I used something else for invoicing and had to manually match payments to invoices, which was taking me hours every month. Now everything is integrated, and I have a whole bunch of other features (HR, Inventory management, CRM...) for a complete solution. I just love it. Plus, it has an auto-import function from Xero, so the transition was much easier than I thought. Oh, and as a cherry on the cake, the support team is great and reactive.
Nachteile:
As it's a very feature-full solution, it can be overwhelming at times. It's not just fire and forget, you do have some configuration to do, which honestly can be a bit complicated if you're not used to this kind of software. And if you're migrating from solutions others than Xero or QuickBooks you might need some support.
Đỗ
General Manager in Singapur
Verifizierter Nutzer auf LinkedIn
Marketing & Werbung, 11-50 Mitarbeiter
Verwendete die Software für: 1-5 Monate
In Betracht gezogene Alternativen:
Application suitable for all businesses
Kommentare: This is exactly the business management software that I have been searching for a long time. I am a marketing agency with a lot of clients and in the past we had to manually manage it through Excel, although the market has a lot of management software and it is cumbersome because each tool stands separately. Only Deskera could do the package and turn around so easily. The road map is very promising right now and I see them actively taking care of their customers. Just need to improve the performance a little in the dashboard to make it work faster. Also there is nothing to blame. In addition, the price is very good, even a LTD but with what Deskera offers I think this is the next unicorn in the business software segment like CRM and ERP
Vorteile:
I love the way the app manages companies and departments under one account. As a general manager I can easily view reports from accountants (daily receipts and payments, import and export invoices), reports from CRM about leads and deals gathered from sales staff, in addition, also manageable for payroll, timekeeping and travel reimbursement. All can be viewed in a single dashboard report. Very fast and convenient. Their mobile app is very intuitive and easy to use, able to create deals and browse permission applications on the go. Mobile apps are the one I appreciate most at Deskera, but in terms of features like Book, it's a bit confusing to start but they have quite a full Docs, me and my accountant are still working on and applying it. into your business.
Nachteile:
In general, the basic features compared to other softwares on the market they are already complete. I would like to integrate more local banks to accommodate more tax patterns in different countries. Desktop application will be a little difficult to grasp initial usage, and it works a bit heavy, just improve its performance, add automatic integrations like Zapier, Pabbly Connect to be able to connect with other other marketing software.
Patrick
Co-founder & CEO in USA
Verifizierter Nutzer auf LinkedIn
Computer-Software, 2-10 Mitarbeiter
Verwendete die Software für: 1-5 Monate
I've had the same Deskera support ticket for 3 months - their support is nonexistent
Kommentare: Awful. Deskera's support is non existent. I literally follow up daily and they've cost me so much money. I hate this company.
Vorteile:
Nothing, it doesn't work and their support team is a joke. I've never had a worse experience than Deskera's support team.
Nachteile:
Everything. Deskera doesn't have a support team. The product is full of bugs. The API documentation is incomplete and I can't get a copy and paste answer to my support query for months. It's absolutely frustrating. Stay away from this terrible product.
Proinsias
Owner Manager in Irland
Verifizierter Nutzer auf LinkedIn
Design, Selbstständig
Verwendete die Software für: 1-5 Monate
In Betracht gezogene Alternativen:
All in One Product for the small business in need of Financial Reports and a CRM and more
Kommentare: I am pretty OK with software packages, but it was really easy to setup and configure. And I like the ability to customise the Quotes and Invoices. The UI and the UX is very good, and I do not feel myself using the word "Clunky"/. Also, the colours are nice and make me feel happy, even if I am doing boring stuff like accounts.
Vorteile:
Hi, I only really got this for the invoicing system. I am a sole trader. I had been using Wave and they and now just focusing on the US and Canada Market. Deskera came at the right time. For me it is the Quotations and the invoicing and the accounting. That alone to me is worth the cost. And I can also give access to my accountant if they need to validate my returns. I also have a Sales and Purchasing dashboard that will bring me up a level so I can better understand my business. I had applied for a bank loan, and I was asked for management accounts, and to be honest I just had a bank statement with a basic spreadsheet. This will now give me better insights into my weekly financial status. Also, I can also see my Sales funnel all in one view . Just having that for my Bank Manger will make me more professional. Also it links in with the CRM with a mailing function. Just in those two modules you can replace at least 4 to 6 separate software apps. You can communicate from the app and have a mail list. You may want to consider extra codes if you want a larger mail list. There is only one employee, me, but if I am lucky I will be able to manage part-time staff and their payroll as well as my payroll. That again is another Bonus. Hopefully there will be a Client POrtal on the roadmap but to be honest th
Nachteile:
I am missing a Client Portal but I am sure that will come in time. But that is something that I can manage on my wordpress site. Also, the EU GDPR compliance is nearly there, and I am sure that will happen in due course. I was listening to a seminar online and I am happy to know that they are nearly there.
Keshav
founder in Indien
Verifizierter Nutzer auf LinkedIn
Unternehmensberatung, 2-10 Mitarbeiter
Verwendete die Software für: 1-5 Monate
In Betracht gezogene Alternativen:
one stop solution for accounting, CRM & HR needs for any business
Kommentare: I have been using Zoho books for more than 2 years now and was very scared to switch.
I on a trial used deskera for almost a month and the learning curve have been awesome. I was so happy that I immediately purchased a code and also considering to upgrade it even.
This tool has a huge potential and I am still enjoying that [SENSITIVE CONTENT HIDDEN] are active and ready to support.
I purchased it for a manufacturing business and am really loving the option and features it has. I have full faith that this product will be my one-stop solution for accounting & HR needs (payroll for now). I wish that this product reach its full potential and we also grow with it.
Vorteile:
1) easy to use 2) Faster learning curve 3) Awesome community 4) phenomenal customer support 5) equipped with modern marketing and management techniques including automation. 6) ERP features are amazing 7) Best mobile app to use and access data.
Nachteile:
There is hardly any con as company resolves the issues so fast that it's not a con. every business has different need and software is so versatile that I adopt most of them, If few are left, then it could be a con, but team listens and finds a solution very fast.